Updated 2023 Version | Full System Diagnostic Scanner
& Service Tool (80+ Car Makes) 
Autel MX808, one of the most versatile OBDII diagnostic scan tools in the market, is an ideal choice for car shop owners and professional mechanics.
What is New?
The MX808s comes with new upgraded 64GB Internal Storage
It also boasts with Android 11 as its operating system. Upgraded from Andriod 4.4
And the Battery is a 5000mA Lithium-polymer Battery
Description
Videos
Specifications
Accessories
Downloads
Comparison
Description

With its advanced 25+ hot service functions including Oil Reset, SAS Calibration, ABS Bleeding, Injector Coding, Battery Registration, PDF Regeneration, etc., and still growing, Autel MX808 ranks top in professional automotive scanners.
Main Functions
Read fault codes & provides a description
Clear fault codes & warning lights (e.g. airbag, ABS, engine light etc)
Service functions – interval light / oil reset light / EPB / injectors etc
Access to live data streams (oxygen sensor rich/lean indication, coolant temperature, mass air flow etc)

Features
• Powertrain System- Read / Test / Clear trouble codes all modules
• Body System – Read / Test / Clear trouble codes all modules
• Chassis System- Read / Test / Clear trouble codes all modules
• Info & Communication- Read / Test / Clear trouble codes all modules
• Auto VIN Detection
• Auto Scan all major systems
• Live Data to test individual systems
• Communicate with door modules, body controllers, electronic modules
• Support all OBDII protocols and 10 test modes including Freeze Frame, Enhanced Mode 6, Vehicle Info, I/M Readiness, On-Board Monitor and Component Tests
• Graph, record and playback freeze frame data
Service Functions
Oil Reset Service
EPB Service (Electronic Parking Brake)
BMS (Battery Management System)
SAS Service (Steering Angle Sensor)
DPF Service (Diesel Particulate Filter)
TPMS Service (Tire Pressure Monitor System)
IMMO Service (Immobilizer)
Brake Bleed
Injector
Throttle
WIN DR ROOF
Seats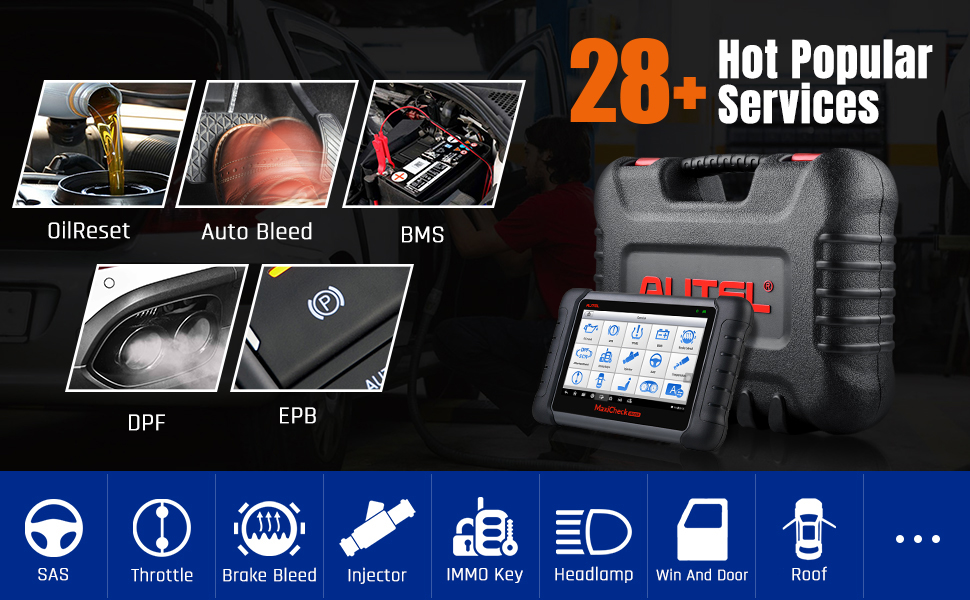 Diagnose all available modules
Autel MX808 works well on 80+ car makes and models worldwide (1996 and newer), to Read / Clear codes, view Live Data for all available systems using the supported protocols. The detailed report reveals the exact nature of the problem, with possible fixes to help greatly plan the budget for repairs.
Runs Fast & autovin
Skip those often very expensive OE-level scanners, the affordable MX808 presents a rich bag of features for you to enjoy. The AutoVIN technology can straightforwardly get detailed info of the car, ranging from engine type to where it was manufactured, with just a single touch. 
Vehicle Coverage and Function?
This unit will cover nearly all manufactures in the South African market.
2023 Newest Autel Scanner MaxiCheck MX808 – Same as MaxiCOM MK808
ABS Auto BleedABS


Brake Bleeding enables technicians and home mechanics to bleed air out of the ABS module and saves you time and money. Use this to first bleed the ABS module which will force any air into the brake lines. Then you can do a brake bleeding as usual.Note: Your vehicles must be programmed by the manufacturer to perform auto-bleed. Please confirm with us if your vehicle has the auto bleed function.

Injector Coding

Just replaced a bad fuel injector?

You need to perform injector coding for the new injectors! Autel MX808 professional scan tool can program a new code to the engine ECU for accurate communication and Injection control.

Autel MX808 automotive scan tool has the capability to perform injector coding to:

–Control the fueling and optimize the engine performance to prevent fuel consumption increase or black smoke.

–Solve non-start issue(for newer systems, the vehicle will not start if you do not code in the injectors).

Record Live Data

MX808 scanner performs 4 modes for data viewing: Analog meter, Texts/List, Waveform, and Digital gauge for various vehicle control systems, such as engine, transmission, and ABS. Display live data in text, graph & analog for easy data review.

The live data streams are vividly displayed on its crisp screen, so you can discover the abnormal parameters intuitively and figure out which part is wrong quickly.
2023 Newest Autel Scanner MaxiCheck MX808 – Same as MaxiCOM MK808
AUTO VIN & AUTO SCAN

MX808 diagnostic scanner adopts the latest VIN-based Auto VIN Technology that enables auto technicians or home mechanics to identify vehicle information, like brand, year, make, model and etc, at a single touch. With the Auto VIN and Auto Scan features combined, Autel MX808 can perform comprehensive diagnostics accurately and efficiently.

NOTE: Auto VIN feature does NOT work on all cars. You can always navigate your vehicle through the menu manually to perform diagnostics and services.

Key Fob Programming

Autel MX808 professional diagnostic tool has the capability to add a new key, delete lost keys and perform key fob learning.

Note: It can add new keys for low IMMO-grade vehicles only, like Asian cars. It does NOT support an all-key-lost situation.

The MX808 has similar diagnostic software to the MD808 Pro, but more services functions.
The MX808 is a tablet, so it is easy to update (simply log onto wifi and update, MD808 you need to remove the memory card and use it with a laptop).
The MX808 has a shop manager to view full history of all your scans with an easy option to email or print to the client. The MD808 pro, does not have this.
The difference between the MX808 and the DS808, is that the MX808 does not have coding / special functions. So if all you want is to read and clear fault codes with service functions, this is your unit!
Videos
Specifications
Accessories
Downloads
Comparison