TPMS Tyre Sensor Programming & Diagnostics Service Functions
The MaxiTPMS ITS600 is a wireless, touchscreen Android-based tablet that offers complete TPMS diagnostics and service functions.
The tablet features a 5.5-inch color display and Bluetooth vehicle communication interface (VCI). Compatible with U.S, Asian, and European TPMS-equipped vehicles
The ITS600 features an enhanced TPMS status screen, VINscan for rapid vehicle identification, four MX-Sensor programming options, OBDII relearn functionality, and onscreen relearn instructions for all vehicles.
Description
Videos
Specifications
Accessories
Downloads
Comparison
Description
The ITS600 can activate, read and relearn all known sensors, perform TPMS system diagnostics and four common maintenance services.
Additionally, it provides DOT number scan, tire expiration notice, and access to recall lookup.
The ITS600 is compatible with

 TBE200 Tire Tread & Brake Disc Wear Analysis tool

, sold separately. By providing an extensive series of tire-related features and functions, ITS600 is your ideal choice to complete TPMS and tire health work.
Full TPMS Solution
Activates, reads and relearns all known sensors
Enhanced, at-a-glance diagnostics status screen
Fast OBDII relearn for most vehicles
Program MX-Sensors to replace 99% of OE sensors
Copy By OBD sensor programming for faster service
Four MX-Sensor program modes; batch program up to 20 MX-Sensors
Includes wireless Bluetooth vehicle communication interface (VCI)
Tire pressure placard value reset
Read/Clear TPMS system codes & view live data
Free Wi-Fi software updates for the life of the tool
Diagnostics & Service
Oil light reset
Electronic brake service
Battery registration
Steering angle reset
Included service function updates are free for the life of the tool
All systems diagnostics and maintenance services software available with Pro Upgrade purchase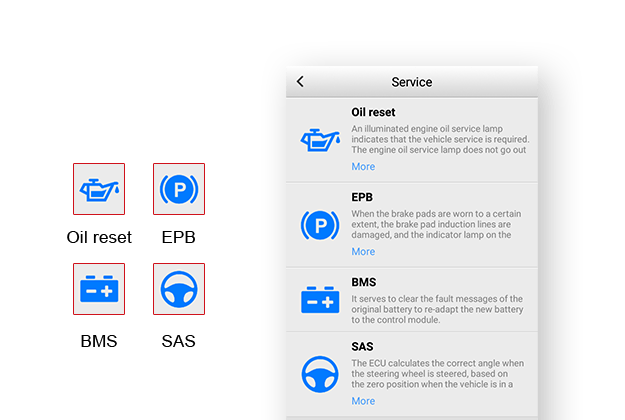 Expanded Tire Service
DOT
Quick & Easy Tire DOT Number Scan
Tire Expiration Notice
Tire Recall Lookup
Tread Depth & Brake Disc Wear
Precise laser measurement of tread depth & brake disc wear with purchase of Autel TBE100/TBE200
Comprehensive Test Report: TPMS health' Tread depth & brake disc wear characteristics & Repair tips

Optional Extras

ITS600 Full-System Diagnostic Upgrade


Get the same level of diagnostic capability as Autel's top-selling MX808
R1999 activation fee (get 1 year of free updates and thereafter optional updates)
Read fault codes & provides a description
Clear fault codes & warning lights (e.g. airbag, ABS, engine light etc)
Service functions – interval light / oil reset light / EPB / injectors etc
Access to live data streams (oxygen sensor rich/lean indication, mass airflow etc)
Autel MaxiTPMS TBE200


Laser-Enabled Tire Tread and Brake Disc Wear Examiner
Real-time tire health analysis
Comprehensive test reports
Autel TPMS 1 Sensor (315MHz / 433MHz)


Universal Programmable Tire Pressure Monitoring MX-Sensor
Videos
Specifications
Accessories
Downloads
Comparison