Autel Universal Tyre Replacement Sensor for Car & Moto Bikes
(OE-level fit – 315MHz / 433MHz)
Programmable TPMS MX-Sensor
Autel, as one of the world's leading manufacturers in the automotive aftermarket, dedicates itself to developing professional diagnostic tools and translating global clients' needs into superior cost-effective and innovative products with strong R&D and production capabilities.
Description
Videos
Specifications
Accessories
Downloads
Comparison
Description

Autel MX-Sensor 2 In 1 (315 + 433MHz) as a programmable universal sensor being smart and efficient specially built for sensor replacement with maximum application coverage, ease of use, OE-level fit, performance, and reliability, will help users economize the cost of diagnostic work and raise the repair efficiency greatly.
2 IN 1 DUAL FREQUENCY:
This tire pressure monitoring sensor (for TPMS) has been manufactured to combine both 315 MHz and 433 MHz applications in one sensor to greatly simplify users' inventory management and lower the investment as well as sales loss. And it is built to perform like OE sensors in terms of signal, durability, and functionality
98% COVERAGE:
Autel MX-Sensor 2 In 1 (315MHz + 433MHz) Screw-In OE-Level Programmable Sensor is smart and efficient, supporting up to 98% of vehicles (Supports VW, BMW, Mercedes Benz, Ford, Toyota, Hyundai etc). click here for full coverage details 
SOLID & DURABLE:
It is equipped with an automotive-grade battery to meet severe weather conditions with long service life of over 5 years. Its high-precision air valve is able to prevent air leakage. The high-quality housing can withstand cold, hot and resistance corrosion
EASY TO USE:
The maximum sensor signal strength allows sensors to be easily programmed wirelessly even when they have already been mounted to the wheel. Moreover, the unique screw release valve design makes the manual sensor replacement much easier
WARRANTY:
Autel guarantees that the sensor is free from material and manufacturing defects for a period of 24 months or for 24,000 miles. Each sensor is marked with a serial number to track the sensor quality from the factory to ensure that only the highest quality parts are installed.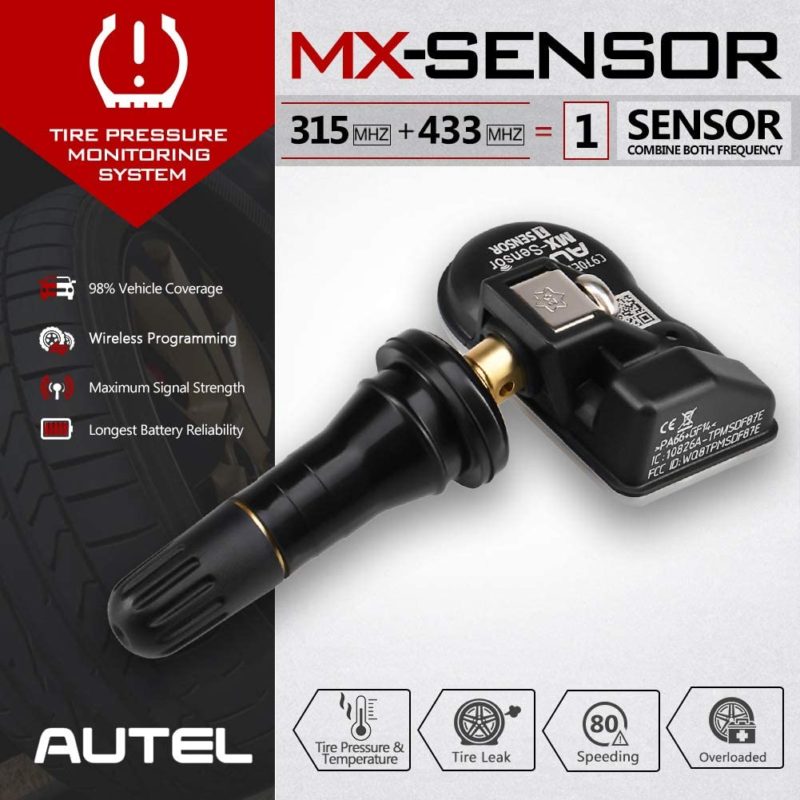 PLEASE NOTE:
You will need either a TPMS PAD or ITS600 to program an Autel MX sensor.
The MaxiTPMS programming accessory device (PAD) is the perfect tool for a low-cost DIY sensor programming replacement solution or for an auto service provider wanting to explore TPMS services to expand revenue generation.
For a professional solution (TPMS, diagnostics, tire & brake measurement, and reporting) to their customers – we would rather recommend the Autel ITS600 TPMS & Diagnostic Service Tool because:

It is easier to use, quicker, and more professional (Andriod, wifi updates, professional customer reporting)
It comes standard with diagnostic service functions that fitment centres need (with the ability to upgrade to full-system diagnostics)
Ability to add on the Autel TBE200 Tyre and disc wear laser measurement tool

Provide accurate reports to your customers on the state of their tyre thread and brakes
Have internally standardized recommendations for customers on when to suggest replacement


Our suggested TPMS sensor replacement as a service = R1250 per sensor replacement

Remove tyre, replace the sensor, balance tyre, and program sensor
We suggest that most consumers get this professionally done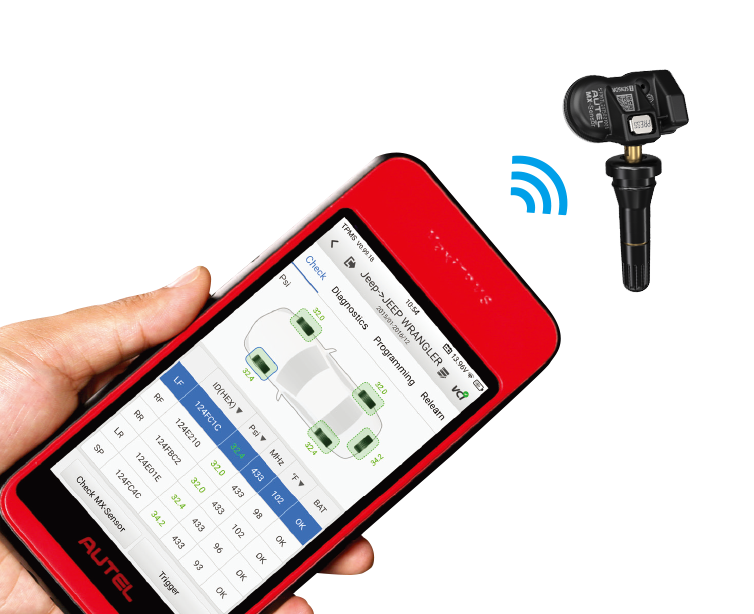 98% VEHICLE COVERAGE LIMITED 1-SKU INVENTORY:
An easy-to-use and cost-effective necessity for any shop performing TPMS repairs, the Autel 1-SKU sensor inventory solution with 98% vehicle coverage eliminates the need for distributors to carry the hundreds of sensors to fulfill shop orders. On the shop level, needing only 1-Sensor to service nearly every TPMS equipped vehicle means lower repair cost and higher install efficiency.
MAXIMUM SIGNAL STRENGTH WIRELESS PROGRAMMING:
The extraordinary sensor signal strength allows AUTEL 1-Sensor to be easily programmed wirelessly even when the sensors have already been mounted to the wheel. And with strong signal strength, now up to 16 sensors can be programmed in one session with AUTEL latest TPMS tools. AUTEL MX-Sensor is 100% clone-able. No relearn is required when the MX-Sensor is cloned with the original sensor ID and put in the same position.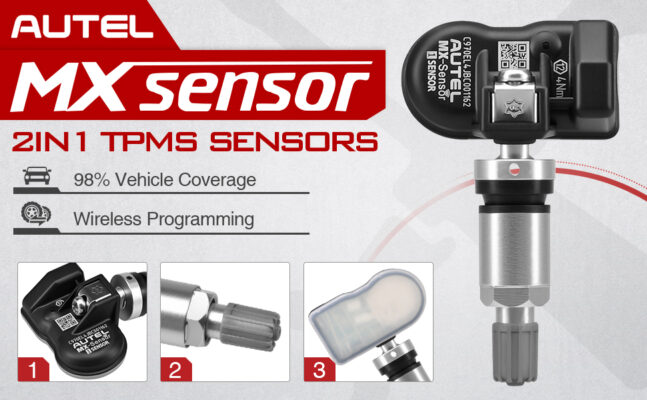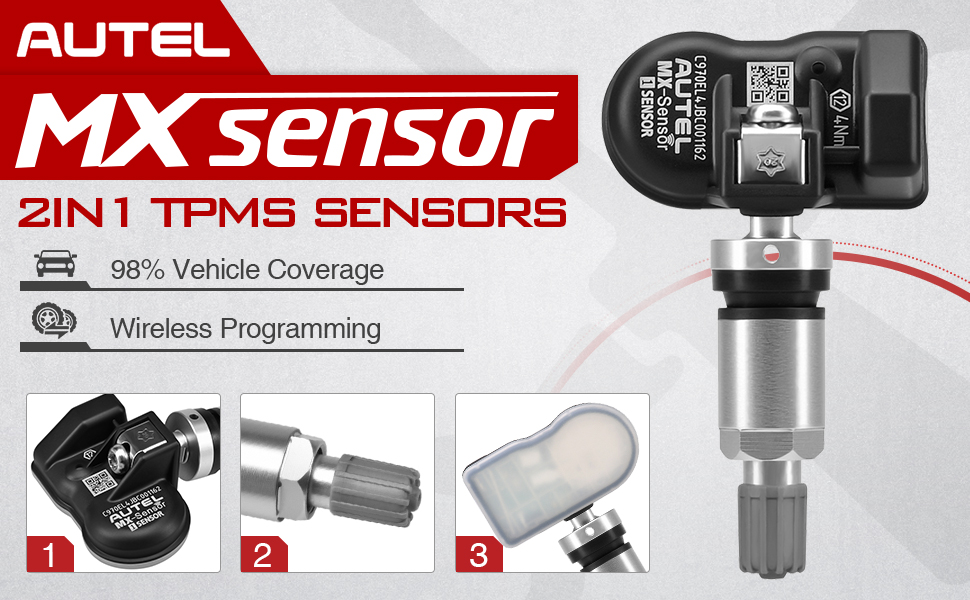 SUPERIOR BATTERY RELIABILITY LOWER SENSOR WEIGHT:
With the highest quality materials and advanced TPMS technology, AUTEL 1-Sensor provides superior battery life and reliability, to match OE sensor battery performance. The 1-Sensor body weighs only 11g, making it significantly lighter than most sensors in the market, which ensures better sensor stability and performance.
SAE TESTED & CERTIFIED STRICT QUALITY CONTROL:
AUTEL high-quality MX-Sensor is tested and certified to meet SAE industry standard J1205 / J1206 testing. AUTEL guarantees MX-Sensor are free from manufacturing defects for a period of 24 months or 24,000 miles, whichever option comes first. Each Autel MX-Sensor has a series number for assuring quality control. The series number is imprinted on the sensor or can be read with Autel TPMS tools. With the series number, Autel can track the sensor quality from our factory manufacturing to ensure only the highest quality parts are installed.
FEATURES:
Built to perform like OE sensor, in terms of signal, durability & functionality.
Automotive battery grade to meet severe weather conditions.
High-precision air valve to prevent air leakage.
The replaceable aluminum valve stem is anodized for corrosion resistance (for the Clamp-in sensor).
Robust clamp-in pivoting stem design allows for 0-35 degrees angle adjustment to fit all types of wheels (for Clamp-in Sensor.
Fast and simple assembly minimizes installation time
SPECIFICATIONS:
Battery Life – ≥5 years
Pressure Monitoring Range – 0 to 800kpa
Pressure Reading Accuracy  – ±10kpa
Battery – 3.0V
INSTALLATION PROCESS: 
1.Loosen the tire: Remove the valve cap and core and deflate the tire.
2.Dismount the tire: Clamp the tire onto the tire changer, and adjust the valve at 1 o'clock relative to the tire separation head. Insert the tire tool and lift the tire bead onto the mounting head to discount the head.
3.Dismount the sensor: With a screwdriver remove the fastening screw and sensor from the Valve stem, then loosen the nut and remove the valve.
4.Mount sensor and valve: Slide the valve stem through the valve hole of the rim. Tighten the screw-nut with 4.0 Nm with the help of the positioning pin. Assemble the sensor body against the rim and tighten the screw.
Mount the tire: Place the tire on the rim, making sure that the valve faces the separation head at an angle of 180 degrees. Mount the tire over the rim.

WARRANTY:
Autel guarantees that the sensor is free from material and manufacturing defects for a period of 2 years or within 24,000 running miles, whichever comes first. 100% ID cloneable and no relearn required. Tested and certified to meet SAE standards.
Videos
Specifications
Accessories
Downloads
Comparison