Autel XP400 Pro – Key and Chip Programmer
The XP400Pro key and chip programmer, compatible with the IM508 and IM608, reads/writes and learns keys to the vehicle. The XP400Pro enables the programming of infrared keys for Mercedes vehicles and IC Chip keys on late model Hyundai KIA vehicles.
The XP400 also performs EEPROM-data functions needed for European vehicles. The XP400Pro supports Data Read/Write of 3,000 Plus Chip Types (inc. EEPROM, engine ECU, MCU, IMMO ECU).
Description
Videos
Specifications
Accessories
Downloads
Comparison
Description
XP400Pro – Advanced All-in-One Key Programmer
Expanded EEPROM functions for more component access
Supports Key Renewal on 11 Key Types with Additional Adapters – IMKPA Key Programming Accessories Kit
170+ types Odometer component reading functions
180+ Immobilizer ECU component types
2000+ MCU component types, 440+ EEPROM component types, 40+ Engine ECU component type


Powerful IMMO Functions
Auto Detect Make/Model/Year/System
Read PIN (All Key Lost)
Key Learning
IMMO ECU Reset/Adaption
IMMO ECU Refresh/Coding
Remote Learning
AUDI Q5/A4/A5 2015-2017 Key Learning
VW MQB Key Learning
BMW FEM/BDC Key Learning and Adaption
BMW CAS4 Key Learning and Adaption
Mercedes Key Learning
2015-2018 Land Rover & Jaguar write key via dump
Volvo Smart Key Learning/knob-style smart key


Advanced Programming Functions
EEPROM Read/Write
MCU Read/Write
Key Programming
Mercedes Key Read/Write
Remote Frequency Detect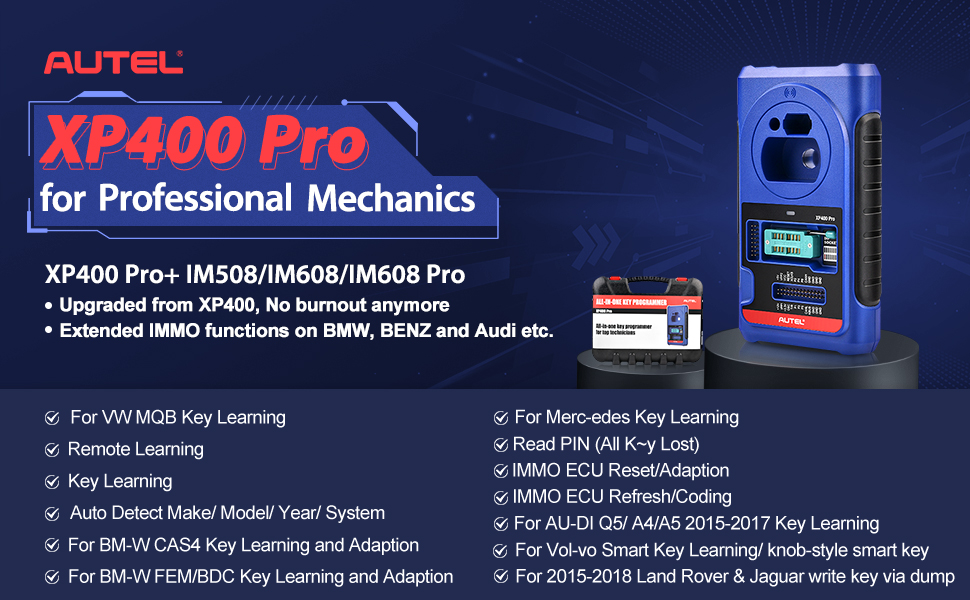 The XP400 Pro has been extended IMMO functionalities on BMW, BENZ and Audi etc., designed to work with IM508, IM608, IM608 Pro to perform various IMMO Key programmings, key chip programming functions, MCU writing and reading,etc. Auto Detect Make, Model, Year, System. Read PIN (All Key Lost), Key Learning, IMMO ECU Reset/Adaption, IMMO ECU Refresh/Coding, Remote Learning
For AUDI Q5/ A4/A5 2015-2017 Key Learning
For VW MQB Key Learning
For BMW FEM/BDC Key Learning and Adaption
For BMW CAS4 Key Learning and Adaption
For Mercedes Key Learning
For 2015-2018 Land Ro-ver & Jag-uar write key via dump
For Volvo Smart Key Learning/ knob-style smart key, etc.

NOTE: IM608+ XP400 Pro is a very powerful tool combination to satisfy your needs of IMMO key programmings. However, if with limited budget, IM508+ XP400 Pro is a cost-effective combination for you to maximize the IMMO functions.
Videos
Specifications
Accessories
Downloads
Comparison