Autel introduces MaxiIM IM608, a state of the art 10-inch Android-based touchscreen tablet combining the most advanced key programming and immobilizer capabilities with OE-level diagnostics and service functions. Equipped with XP400 key programmer and MaxiFlash JVCI ECU programmer, IM608 is a comprehensive immobilizer and key programming tool and ideal for auto technicians and locksmiths.
IM608 Pro includes:
MaxiIM IM608 Tablet

XP400 Pro Key Programmer

MaxiFlash ECU Reprogrammer

Carry Case

Cables, cords and adapters (part of the adapters are optional)
The MaxiIM IM608 Pro presents several brand new features that make the device even more versatile:
---
What's New
BMW EWS3 key learning

(need to use with APB114)

Mercedes-Benz W209 EIZ read/write/erase

(need to use with APB118)

OEM Mercedes-Benz NEC key learning

(need to use with APB115)
Read/write Data
EEPROM

– added

60

chip types, now supports

445

types

(need to use with APB119, 121, 122, 123 and 126); 

MCU

– added

32

chip types, now supports

2067

types

(need to use with APB120, 127and 128);

Odometer

– will add

162

chip types, will be able to support

171

types in July;

Engine ECU

– added

1

chip type, now supports

41

chip types;

Immobilizer ECU

– added

3

chip types, now supports

181

chip types.

Key unlock

– supports

11

key types

(need to use with APB113)

.
The MaxiIM IM608 Pro supports all the functions of the previous MaxiIM IM608 with a more powerful and stable performance of key functions, including read/write keys, read/write chips, and read/write Mercedes infrared key.
---
Main Features 
• Read & Clear Fault Codes | Short description & code provided (can clear faults & warning lights)
• Service Functions | Oil light / EPB / BMS / SAS / DAF etc
• Access Live Data | Data from the ECU/Modules/sensors displayed in real-time (Oxygen sensor-rich/lean etc)
• Actuation/Component Testing | Actuate (switch on/off) to diagnose functionality (relays, fans, locks etc)
• Coding Functions | Allows you to change vehicle parts that need to be 'coded' (Injectors, ABS, starters etc)
• Flashing/Reprogramming | Advanced updating/coding of ECU's online through a J2534 pass-through flashing device
• Advanced Key Programming | IMMO functions, Transponder read/write/identify, MCU/EEPROM chip read/write
*NB* To see the user manual, training presentations and specific key learning procedures, please go to the bottom of the page.
---
Why buy your Autel IM608 Pro from AutelAfrica?
AutelAfrica is the official online dealer for Autel products throughout Africa
You will get 2 year free updates (instead of 1 year if you grey import)

Please be aware that Autel has IP blocks for grey imported units, they will not work locally!
If you do import one, as soon as you register it,

the device will be locked

(and the Chinese sellers will not & cannot help you)

AKL (All keys lost function) for MQB will be charged at $30 per use
Local Support
You will get local support! –  Remote and telephonic support from our in-house locksmith (over 10 years of industry experience)
You will get local warranty! -> Immediate service/replacement units if you have any issues with your machine (we don't leave you with downtime) – We also keep stock of all local parts.
You will get access to the

Two Official Autel WhatsApp Groups!

Autel Africa Support Group (General group of over 150 clients using these tools supporting each other day to day)
African Auto Locksmiths Group (Autel IM608 support group of over 60 clients in the African market using the IM608)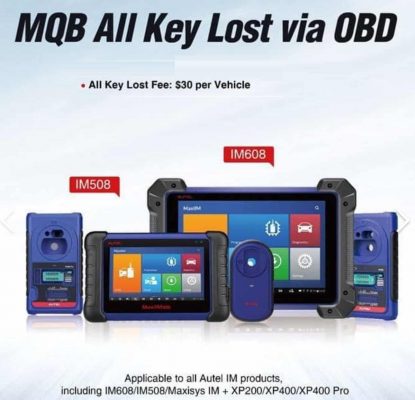 AUTEL

 Training Academy
The Autel Training Academy has now expanded its training offerings with in-depth, specialist-led on-demand webinars.
These recorded live training events include an expansive look at Advanced Driver Assistance System (ADAS), Key Programming technologies and processes, and Tire Pressure Monitoring Systems and offer best practices to ensure you are using your Autel product to perform each needed task correctly and efficiently.
Be sure to subscribe to Autel's Youtube channel to get the latest videos and webinar presentations. 
https://www.youtube.com/Auteltools
---
Powerful IMMO Functions
Auto Detect Make/Model/Year/System

Read PIN (All Key Lost)

Key Learning

IMMO ECU Reset/Adaption

IMMO ECU Refresh/Coding

Remote Learning

AUDI Q5/A4/A5 2015-2017 Key Learning

VW MQB Key Learning

BMW FEM/BDC Key Learning and Adaption

BMW CAS4 Key Learning and Adaption

Mercedes Key Learning

2015-2018 Land Rover & Jaguar write key via dump

Volvo Smart Key Learning/knob-style smart key
OE- Level Diagnostic For 80+ Vehicle Makes
All Systems Diagnostics
AutoVIN / AutoScan
Read / Erase Codes
View, Record and Playback Live Data
View Freeze Frame Data
Shop and Data Manager Applications
MaxiFlash JVCI ECU Programmer (Bluetooth/USB cable)
Advanced Service Functions
All Special Functions, e.g. EPB, DPF, SAS, Oil Reset, BMS and TPMS Sensor ID Relearn, etc.
ECU Coding
Advanced IMMO & Key Programming
Smart Mode:for Guided and Automated Key Learning

Expert Mode:for Advanced Key Learning
Read PIN / CS (All Key Lost)
Generate Key
Key Learning
Remote Learning
Backup / Restore IMMO Data
IMMO ECU Reset / Adaptation
IMMO ECU Refresh / Coding
BENZ 3rd Generation IMMO Add Key, All Key Lost, Key Learning
BMW FEM / BDC Key Learning and ECU Adaptation
BMW CAS4/3/2 Key Learning
VW / AUDI MQB Key Learning, 48 Transponder (96-bit) Add Key, All Key Lost,
A6 All Key Lost, and More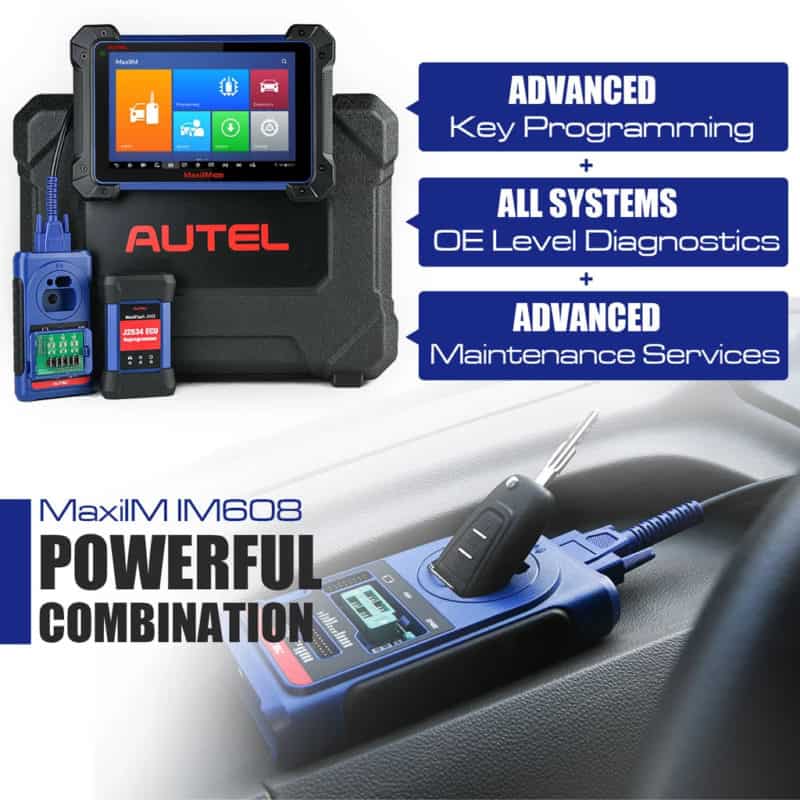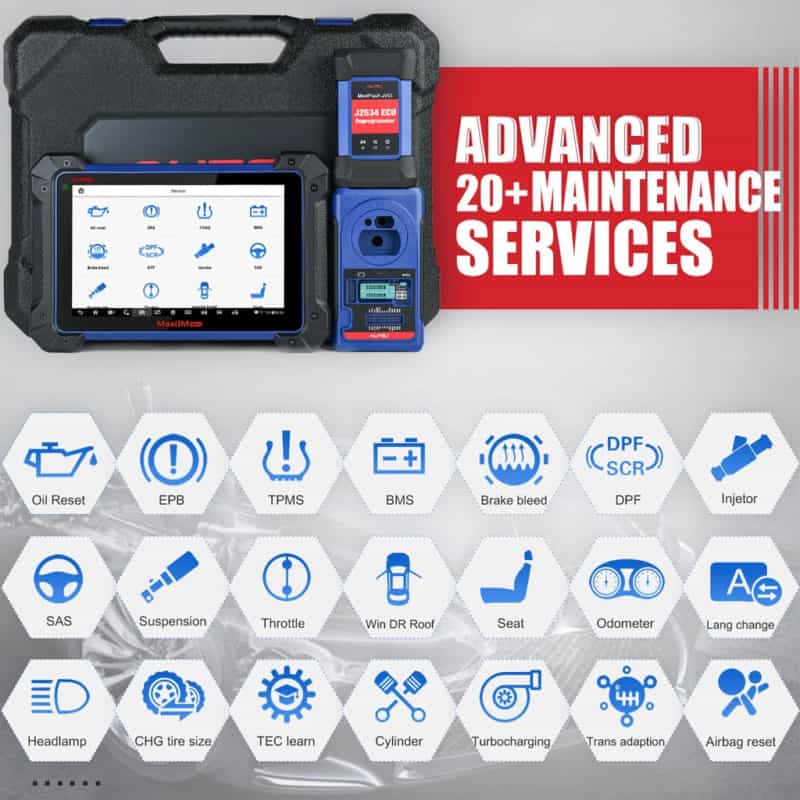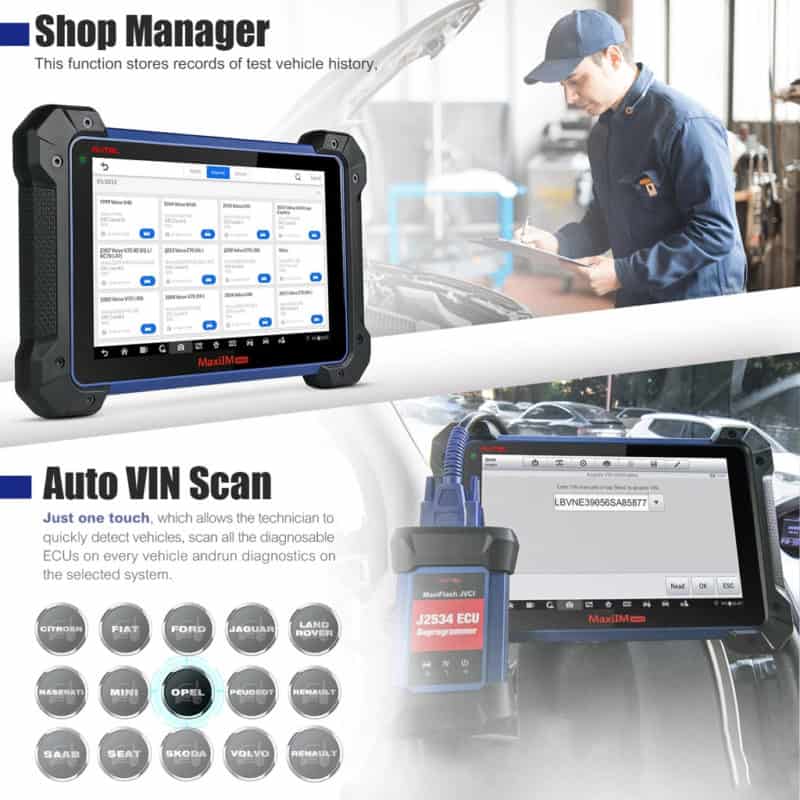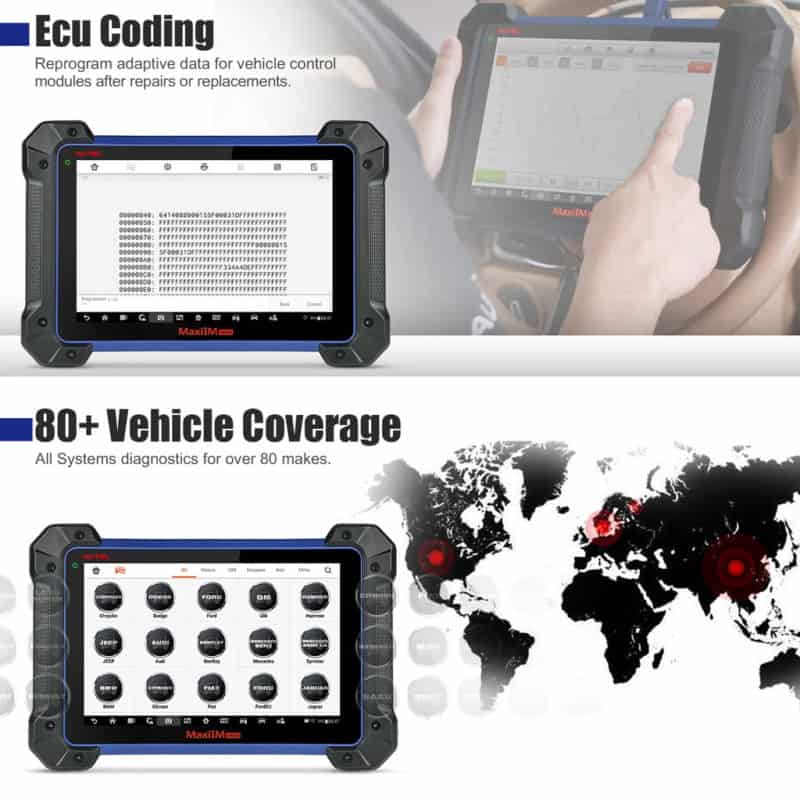 ---
Specification:
Operation System: Android 4.4.2,KitKat

Processor: Samsung Exynos hex-core Processor(1.3GHz Quad-core ARM Cortex-A7+1.7GHz Dual-core ARM Cortex-A15)

Memory: 2GB RAM & 64 GB On-board Memory

Display: 10.1-inch LED capacitive touch screen with 1920*1200 resolution; Wi-Fi:(802.11 a/b/g/n/ac); USB 2.0

Connectivity: BT v.2.1+EDR; SD Card (Support up to 32GB); HDMI

Camera(rear): 8.0 Megapixel, AF with Flashlight

Sensors: Gravity Accelerometer, Ambient Light Sensor (ALS)

Audio: Microphone; Dual Speakers

Input/output: 3-Band 3.5mm stereo / standard headset jack

Power and Battery: Charging via 12V AC/DC power supply with the temperature between 0℃ to 45℃

Input Voltage: 12V (9-24V)

Power Consumption: 6.5W

Operating Temp: 0℃ to 50℃ (32 to 122℉)

Storage Temp: -20℃ to 60℃ (-4 to 140℉)

Dimensions(W*H*D): 300mm (11.81″) x 220.0mm (8.66″) x 50.0mm (1.97″)

Weight NW: 1.42kg (3.13lb.)

GW: 8.655kg(19.08lb)

Protocols: ISO9141-2, ISO14230-2, ISO15765-4, K/L-line, Flashing code, SAE-J1850 VPW, SAE-J1850PWN, CAN ISO11898, Highspeed, Middlespeed, Lowspeed and Singlewire CAN, GM, GM UART, UART Echo Byte Protocol, Honda Diag-H Protocol, TP2.0, TP1.6SAE J1939, SAE J1708, Fault-Tolerant CAN
---
Please note that the product does NOT support Read/Write IC Card function. The "IC Card Induction Area" was also removed from XP400 Pro (please check the below illustration).
USB Port – Provides data communication and 5V DC power supply. 

DC Port – Provides 12V DC power supply.

DB 26-Pin Port – connects with the Mercedes Benz infrared collector, ECU cable, MCU cable and MC9S12 cable. 

Cross Signal Pins – holds the MCU spare cable or DIY signal interface. 

Vehicle Key Slot – holds the vehicle key. 

Transponder Slot – holds the transponder. 

Mercedes Infrared Key Slot – holds the Mercedes infrared key. 

Status LED – indicates the current operating status. 

EEPROM Component Transponder Slot – holds the EEPROM plug-in transponder or EEPROM socket. 
---
Supporting & Procedure Documents
Please note, some of these documents were written for the Auro IM600 / IM100 (this is the same software and procedures that the Autel IM608 uses)
---
XP400 Key & Chip Programmer
Support PC
MCU / EEPROM Chips Read / Write
ECU Read / Write
MC9S12 Encryption Chip Read / Write
Key Read / Write
Mercedes Infrared Key Read / Write
Remote Frequency Detect
IC Card Read/Write