The MaxiSys Elite, the newest addition to the MaxiSys line of highly advanced smart diagnostic tools, is based on the fast and intuitive Android operating system. It Rapidly performs every job from comprehensive vehicle diagnostics & analysis to advanced ECU programming.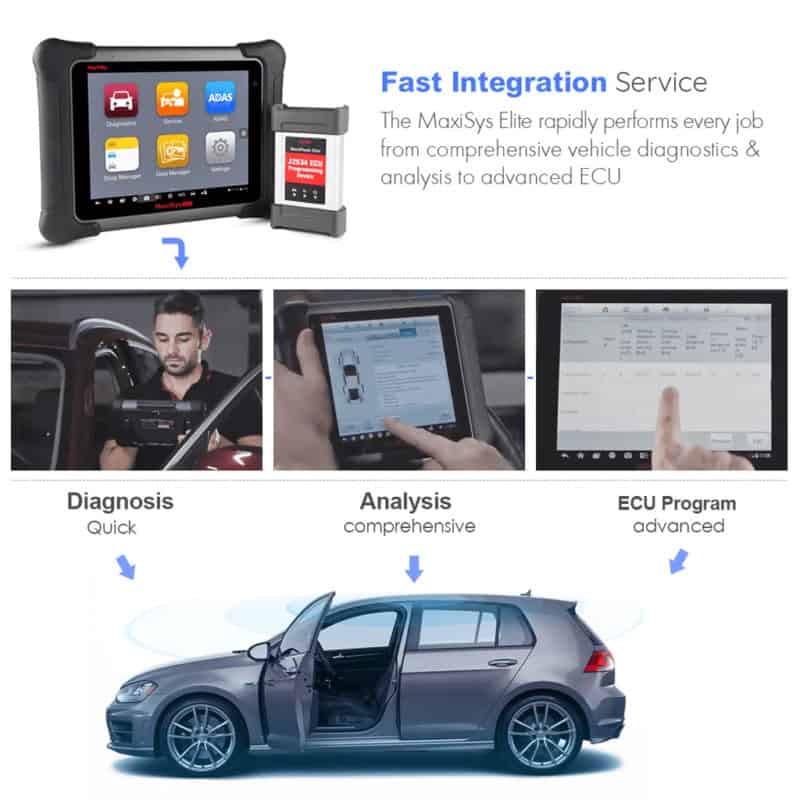 All System Diagnosis
I/M Readiness, O2 Sensor Monitor, On-Board Monitor, Vehicle Information And Vehicle Status
Retrieve and display ECU information of tested control unit, including unit type, version numbers and other specifications;
Read all kinds of DTCs from vehicle's control systems to locate problem areas and offer possible solutions;
Erase the codes easily after DTCs retrieving and certain repairs have been carried out;
Live data of each parameter item displayed in analog, text, waveform graph, digital, or full-screen display modes;
An active test used to access vehicle-specific subsystem and component tests.
Main Features: 
ECU matching on Ford enables you to match the new ECU with your vehicle after replacing the old one
Coding function helps you do programming and coding on some specified control modules
Leading function for VW & Audi offers you step-by-step guidance as to how to fix the problem when you diagnosed the problem of the vehicle
Anti-theft matching can disable the lost key and add the new key's information to the program to ensure the security of your vehicle
Injector programming will write the new code to the ECU after replacement of injector so that the injector works
Throttle matching is to do ECU matching after throttle cleaning or replacement, etc.
Why you should get the Maxisys Elite?
 100% Genuine Autel diagnostic scanner, 2 years free update online, one year warranty
 The top diagnostic techniques, support almost all car brands, workshop Standard diagnostic equipment
Not only easy to use by own diagnostic software but also works on OEM software like xentry odis do special setting
Best price and service, African Stock & Free Shipping
Bluetooth Connection, mobile-free – Enhanced wireless connectivity between the tablet and VCI devices allows greater mobility.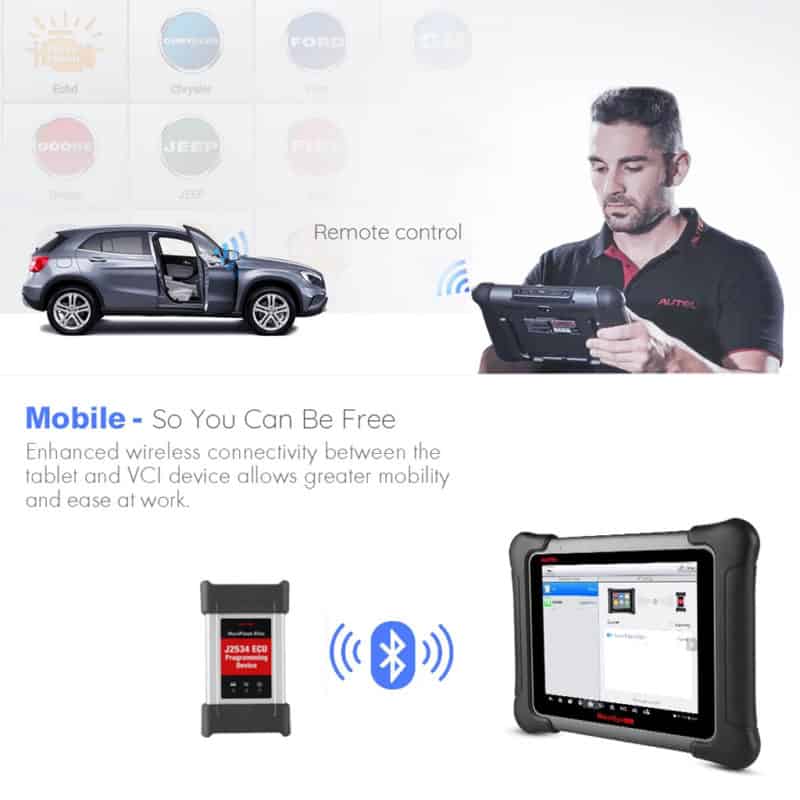 Specifications:
Operating System: Android 4.3 Jelly Bean
Processor: NVIDIA Tegra® 4 (4-PLUS-1 Quad-core Processor) 1.8GHz with ARM Cortex – A15 CPU
Memory : 2GB RAM & 32GB Embedded Memory
Display: 9.7" Retina display with 2048X1536 resolution & Capacitive touch screen
Connectivity : 802.11a/b/g/n/ac WIFI
Version 2.1 3Mbs Bluetooth
RJ45 Ethernet Connection
3.0 USB (2.0 Compatible)
HDMI 1.4a
SD Card (Support up to 32GB)
Camera : Rear: 8.0 Megapixel, Autofocus with Flashlight Front: 2.0 Megapixel
Sensors: Ambient Light Sensor, G-sensor, Air Gesture Sensing
Audio Input/Output : Microphone
Dual Speakers
3-Band 3.5 mm stereo/standard headset jack
Power and Battery: 3.7V/13600mAH Lithium-polymer battery
DC/12V/3A Power Supply
Input Voltage: DC/12V/3A
Power Consumption: Max 20W
Operating Temperature : -10 to +55°C
Storage Temperature : -20 to +70°C
Dimensions (W x H x D) : 309 X 225 X 35 (mm)
Weight : 1.59 kg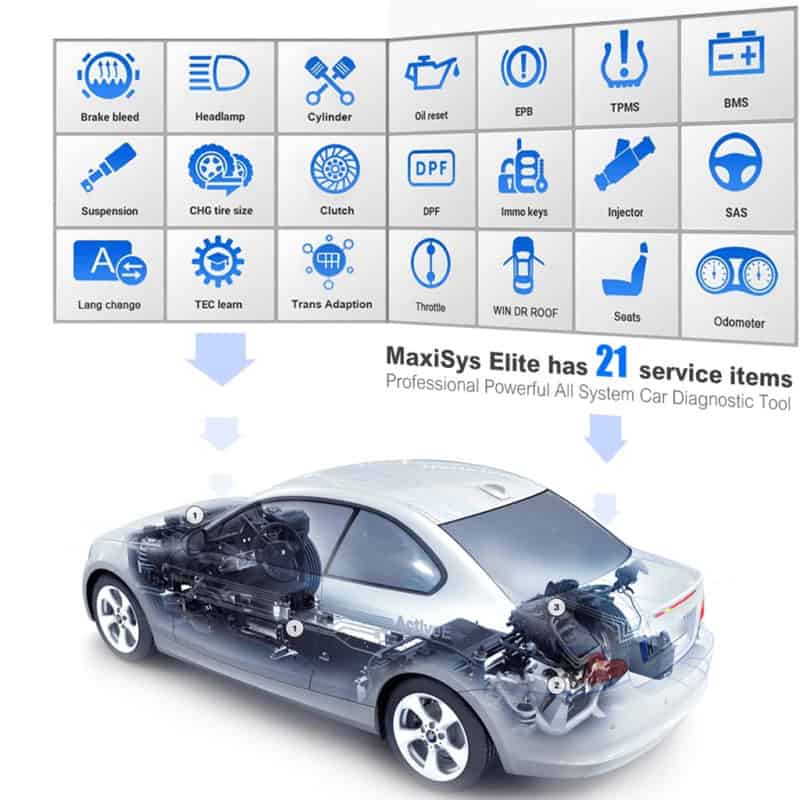 Autel Maxisys Elite Online Programming
Maxisys Elite diagnostic tool comes with Autel MaxiFlash Elite which allows it to process online ECU programming on Benz and BMW vehicles. This is the most advanced and valuable function for many mechanics and professional DIYers. Just do it as instructed, you will find it is easy to fix the complex problem with the guidance.
Autel Maxisys Elite Super-sensitive Capacitive Screen Touch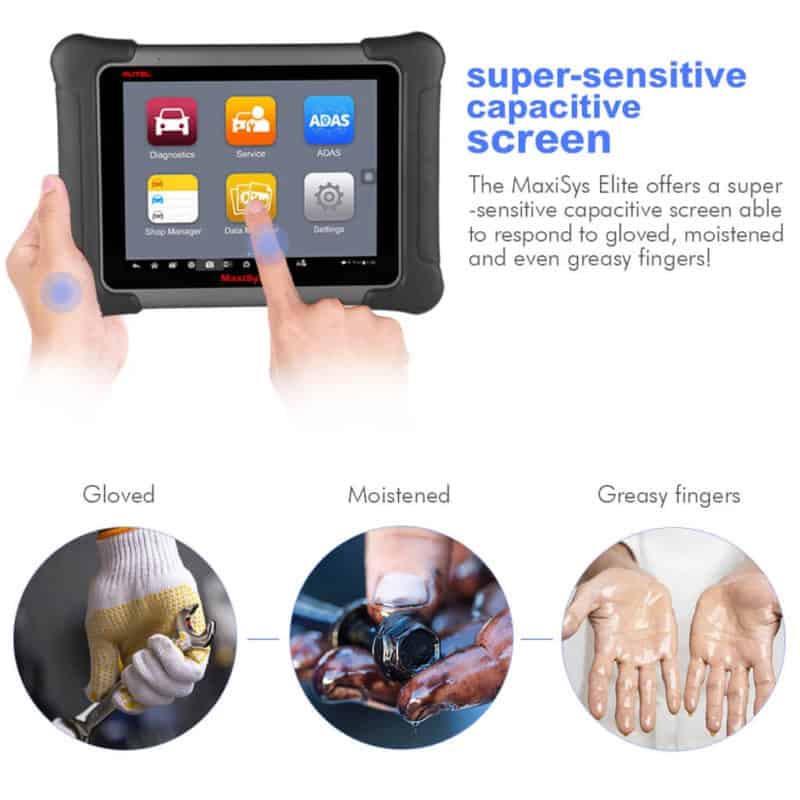 Autel MaxiSys Elite Overview:
Exceptional OE-Level functionality from comprehensive OBDII diagnostics & services to advanced ECU coding and programming.
Uniquely integrated vehicle programming capabilities working with an SAE J2534-1 & -2 compliant vehicle programming pass-thru interface.
Automatic system and software updates with real-time push message notifications via the internet.
Instant remote control tech support anytime, anywhere.
Interactive Data Logging sessions enable direct contact with Autel Support for first-hand troubleshooting of diagnostic bugs and errors.
One-stop multitasking designed for ideal management of workshop operations to keep all data files, customer info, and vehicle records well organized.
Unique ergonomic design with rubberized outer protection and rugged internal housing.
The most efficient scanner featuring progressive technologies like the Auto VIN Scan & Wi-Fi Data Logging inside a very intuitive and user-friendly interface design. 2x faster than any comparable device and MaxiSys Elite provides extended battery life and intelligent power saving.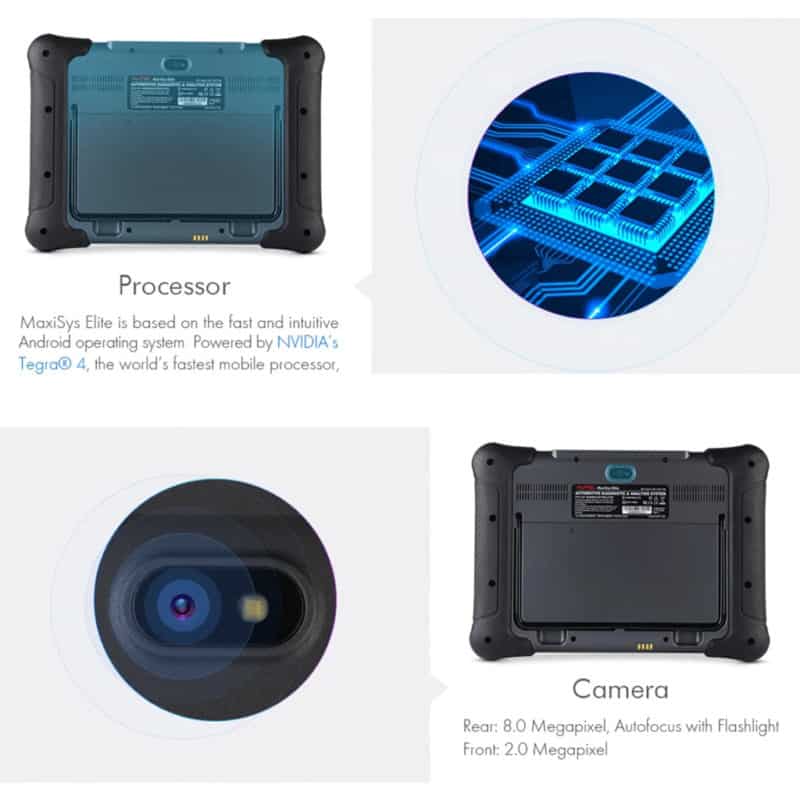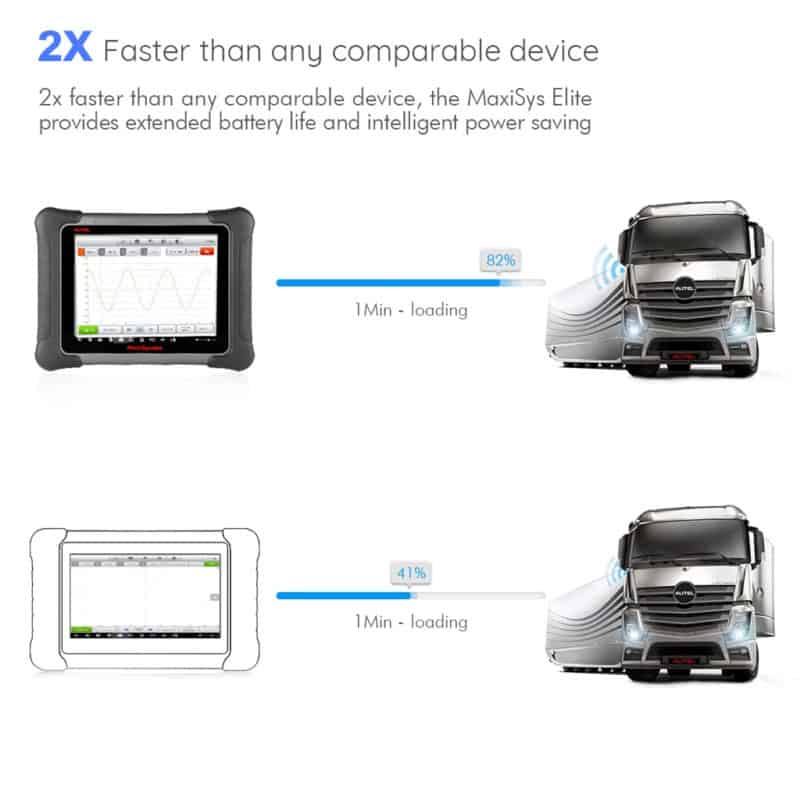 Autel MaxiSys Elite Autel Cloud Technology

Autel Cloud Technology (MaxiFix Platform, Data Management, Data Feedback) gives you support anytime, anywhere.
MaxiFix application launches the on-line troubleshooter database, which not only provides you virtually all common diagnostic trouble code (DTC) database for most vehicles, but also serves as a forum allowing you to network with other MaxiSys users, and gives you access to a vast database of repair and diagnostic tips along with proven filed fixes.
Data Manager application is used to store, print, and review the saved files.
Shop Manager application helps you to manage the workshop information, customer information records, and keep test vehicle history records, which can be a great assist in dealing with daily workshop business and improves customer service
List of Automakers' Service Websites
BMW: http://www.bmwtechinfo.com/
Mini: http://www.minitechinfo.com/
Porsche: http://www.porsche.com/
Chrysler, Jeep, Dodge: http://www.techauthority.com/
Ford, Lincoln, Mercury: http://www.motorcraft.com/
Land Rover: http://www.landrovertechinfo.com/
Volvo: http://www.volvotechinfo.com/
Cadillac, Chevrolet, Daewoo, GM, GEO, Pontiac, Buick, Saturn, SAAB: http://www.gmtechinfo.com/
Acura, Honda: http://www.serviceexpress.honda.com/
Isuzu: http://www.isuzutechinfo.com/
Mazda: http://www.mazdaserviceinfo.com/
Mercedes: http://www.startekinfo.com/
Mitsubishi: http://www.mitsubishitechinfo.com/
Nissan: http://www.nissan-techinfo.com/
Toyota, Lexus, Scion: http://techinfo.toyota.com/
Volkswagen: http://www.erwin.volkswagen.de/erWinVW/
Audi: http://erwin.audi.de/erWinAudi/
NOTE: When reprogramming onboard, always make sure the vehicle battery is fully charged and in good working condition. During reprogramming, there is a risk of having the operation failure if the voltage falls below the proper operating voltage. Sometimes a failed operation can be recovered, but there is a chance that failed reprogramming could ruin the control module. We recommend connecting an external battery charger to the vehicle to ensure a successful operation.
Accessories:
1x MaxiFlash Elite
1x Ethernet Serial Cable (Optional)AC/DC Adapter (12V)
1x AC/DC Adapter (12V)
1x Adapter for GM/Daewoo-12
1x Adapter for Fiat-3
1x Adapter for Benz-38
1x Adapter for Mitsubishi/Hyundai-12+16
1x Adapter for Honda-3
1x Adapter for PSA-2
1x Adapter for BMW-20
1x Adapter for Kia-20
1x Adapter for Nissan-14
1x Adapter for VW/AUDI-2+2
1x Cigarette Lighter
1x Docking Station
1x TS Screwdriver
1x User Manual
1x Quick Reference Guide
1x Carrying Case
1x Lighter Fuse
1x Main cable
1x USB Cable
1x Clipper Cable
1x Soft Cloth
1x Mini USB Cable